A Set of Wingoil Trolley Type Hydro Test Pump Unit was delivered to Malaysia
2020-06-02
Hydro Test Pump Unit
On May 15, 2020, Wingoil delivered a set of Trolley Type Hydro Test Pump Unit to Malaysia. This system can test pressure up to 15,000 psi, with a custom-designed stainless steel enclosure. The trolley structure is easy to use and the stainless steel enclosure is solid and explosion-proof.
Portable Pressure Test Systems
Wingoil Portable Pressure Test Systems utilize the advantages of air-driven liquid pumps and are assembled into robust, lightweight portable packages ideal for providing hydrostatic pressure for a wide range of pressure testing applications, such as for vessels, pipes, valves, etc.
These self-contained units are powered by compressed air and designed for use with a wide range of fluids of water, or soluble oil as the hydrostatic test media.
The pumps, valves, and tubes are all made of stainless steel and can withstand the harsh working conditions of high temperature and high pressure. The portable, lightweight test rigs are designed for onsite pressure testing - both onshore and offshore.
Trolley type hydro test pump unit with a stainless steel enclosure stainless steel material adopted for valves, fittings, and tubes.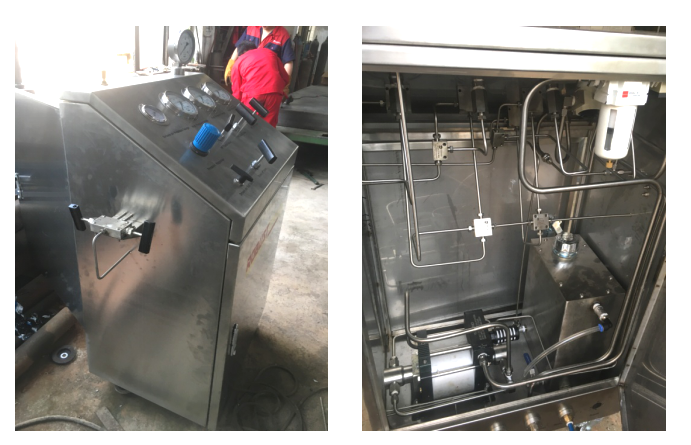 Professional manufacturer of high-pressure equipment

Wingoil is a professional manufacturer of high-pressure equipment and flows control solution providers in the oil & gas industry.
WINGOIL is a professional manufacturer of high pressure and flows control equipment for the oil and gas industry. Wingoil has research and development, design and manufacturing technology for special equipment in the field of oil and gas exploration and development, and provides a full range of technical services.
With years of experience in equipment R&D and manufacturing, as well as in technical solutions, Wingoil provides customers with one-to-one customized products and services based on actual customer needs. Wingoil supplied products to the world's leading oil and gas companies such as PetroChina, Sinopec, CNOOC, Shell, Mobil, and Chevron, etc,.
Wingoil pressure test machine
Wingoil has established strict product development and service management system and has achieved ISO international quality system certification. Wingoil is dedicated to independent research & development and continuous innovation and has obtained a number of patent certificates related to pressure testing and flow equipment.
Wingoil's high-pressure and flow control equipment includes a large-volume pressure test machine, downhole tools, chemical injection skid, mobile container pressure test system, portable hydraulic pressure test unit, vehicle-mounted pressure test system, etc. Wingoil not only gets the recognition of customers but also works with customers to achieve success and win-win. Wingoil's professional field service team can provide customers with a wellhead sealing test, dissolvable fracturing bridge plug, oil casing thread helium gas seal detection, and other services.
Please contact us, and we will be happy to develop a customized solution for you.