A Re-order of Wingoil Hydro Test Pump Unit from the Indonesian customer
2020-06-02
On April 30, 2020, Wingoil successfully delivered a set of Hydro Test Pump Unit with Built-in Chart Recorder to Indonesia. This pump unit can test pressure up to 10,000 psi. The chart recorder is a single pen pressure recorder, with the chart drive of mechanical spring-wound and rotation of only 1 hour. This pump system does not need a power supply, so it is very safe and convenient to use it in the field services.
Hydrostatic Pressure Test Pump are the main product of WINGOIL. It is diverse in variety. Hydro test pump manufacturers are in line with stringent quality standards. The price is more favorable than other products in the industry and the cost performance is relatively high. Based on the idea of 'integrity, responsibility, and kindness', WINGOIL strives to provide the best products and services and gain more trust and praise from customers.
Hydro Test Pump Unit Product Features
● Low-pressure compressed air as the booster power source, safe and environmentally friendly.
● Infinitely variable output pressure and flow.
● Holds static pressure without generating heat or consuming power.
● No heat, flame, or risk of spark.
● Standard models are suitable for oil & water applications.
● Well-proven and trouble-free operation.
● Designed for ease of maintenance.
● Low-cost servicing.
● Compact, robust, self-contained structure.
This is a second-time purchase order from this Indonesian customer, which is a leading oil & gas service company in Southeast Asia. Wingoil products are gaining a strong presence in this marketplace.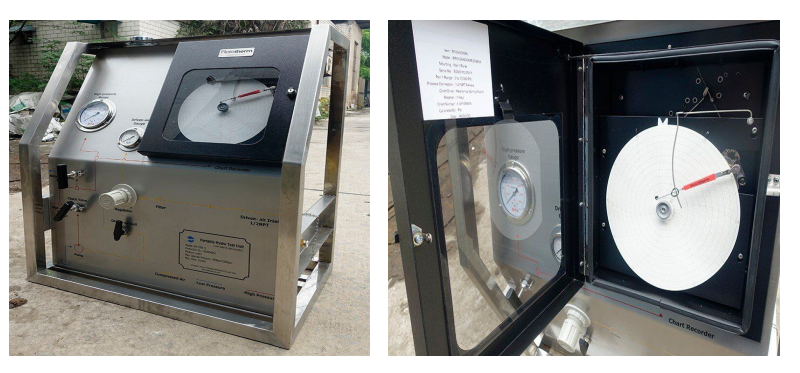 Hydro Test Pump Unit with Built-in Chart Recorder Mechanical Chart Recorde