Portable Hydro Test Pump 20000W
Model: WY-20000W-J0B
Share to
Product Overview
WY-2000W-J0B Portable hydro test pump is a kind of pneumatic hydrostatic testing pump designed and developed according to specific requirements and methods from customers.
Improper operation on this high-pressure equipment takes safety risks, so please read this manual carefully before using the equipment.
Product Characteristics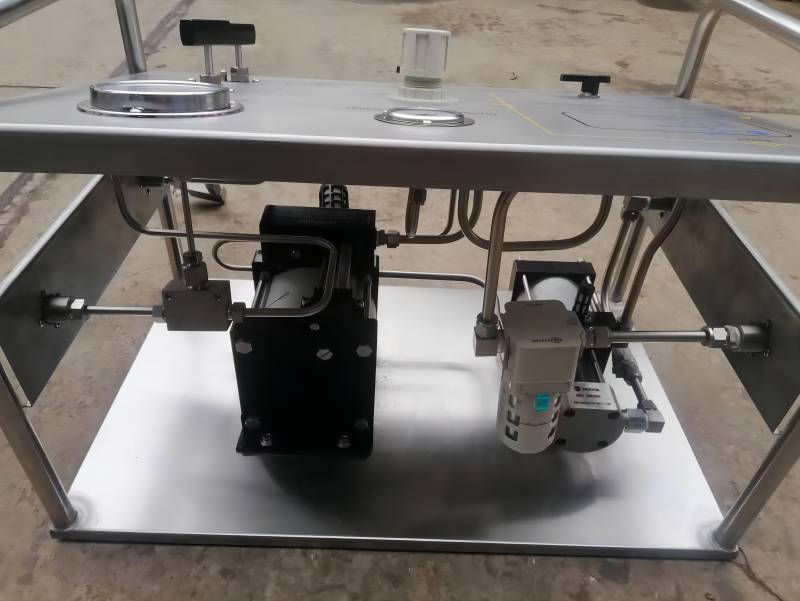 Pressurized stable and reliable, equipment selecting an air drive pump, can quickly complete the pressurized operation.
In simple operation, the user can quickly become familiar with the operation methods and mechanisms through the schematic diagram and instructions.
Safe use, using 316SS as the main pressure component.
Anti-corrosion is strong, the wet parts and panel are made of stainless steel.
Low energy consumption, packing process does not require additional energy consumption.
Schematic diagram
The equipment is a pneumatic hydro testing pump. Compressed air is used as the power source to drive the plunger pump to operate, which can provide relatively stable pressure and flow. Meanwhile, it does not need additional energy consumption in the process of pressure holding, and there is no over pressure in the pressurization process.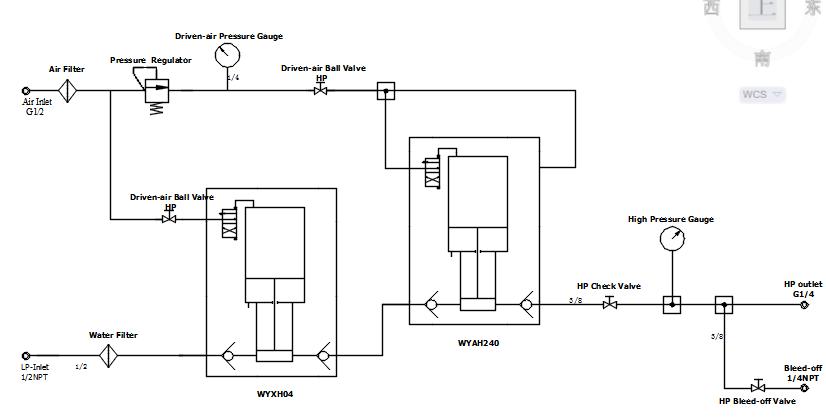 Working Condition
Ambient temperature: 0~ +40℃
Driven air supply: 1-8bar
Low water: 40L/min
Technical Data
Testing medium: clean water
Max. output pressure: 20000psi
Max. flow: 26L/min
Gauge precision: +/-1.6FS
High-pressure pipe: 316SS
Low-pressure pipe: 316SS
Max. working pressure of valve: 30000Psi
Pressure gauge range: 0~35000psi, double scale
Connector:

– Compressed air inlet: G1/2
– Water Inlett: 1/2NPT
– High-pressure outlet: G1/4
– Bleed-off Oulet:1/4NPT

Dimension: 800L×500W×550H
Net weight: ~65KG
Note: The connection and the operating panel flow chart are corresponding to the position indicated by the arrow.