Chemical Injection Pumps – Basic Thing to Know Now
Chemical injection pumps have different uses in different fields. Today, this article will tell you the basic thing you should know about chemical injection pumps.
What exactly are Chemical Injection Pumps?
Chemical injection pumps are intended to boost well productivity, pipeline flow, and corrosion resistance. Depending on the temperature and pressure the injection pump will be operating at, they operate under unique chemical and fluid requirements. Finally, chemical injection pumps deliver specified chemicals to the production system at predetermined rates. For the safe application of chemicals and the effective operation of oilfield systems, several processes are necessary. Chemical Injection Pumps are a prevalent system in the oil and gas sector in Canada. Solvents, de-salting agents, corrosion inhibitors, biocides, clarifiers, scale inhibitors, hydrate inhibitors, oxygen scavengers, surfactants, and other chemicals are some of the substances employed. Methanol is occasionally used to lessen freezing, which clogs pipes.
Chemical Injection Pump Applications
Agriculture Manufacturing and processing of chemicals.
gas and oil production
Cryogenics
Automotive
Manufacturing of pulp and paper
processing of food
Semiconductors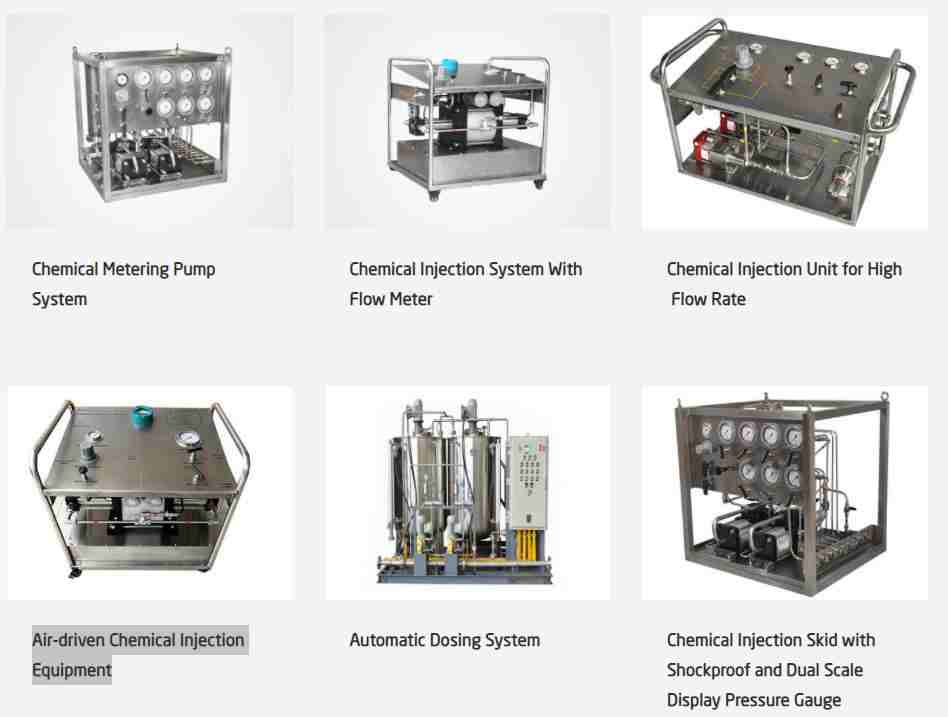 Chemical Injection Pump from Leading Manufacturer Wingoil
Wingoil manufactures products for Chemical Injection Pumps and carries the best quality line for Chemical Injection Systems. All chemical injection pumps are of reasonable structure, excellent performance, good quality, and affordable price for you. Wingoil Chemical Injection Pump has expanded to provide services to a wide range of businesses in a wide range of industries. Wingoil now offers chemical injection pump solutions for a wide variety of applications, from mining operations to food and beverage processors, aircraft and defense industries to oil and gas firms.
There are 8 types of chemical injection pumps at Wingoil. They are Chemical Metering Pump System, Chemical Injection System With Flow Meter, Chemical Injection Unit for High Flow Rate, Air-driven Chemical Injection Equipment, Automatic Dosing System, Chemical Injection Skid with Shockproof and Dual Scale Display Pressure Gauge, tactic Chemical Injection System, and Chemical Injection Equipment & Hose Reels Injection System. In addition, an automatic Dosing System can be used to inject a chemical such as chlorine or a cleaning detergent into a water supply such as a swimming pool.
Advantages of Wingoil chemical injection pumps
All chemical injection pumps are designed and produced with chemically resistant materials due to the extreme conditions they can be put under. While the operation may vary, some chemical injection pumps are operated mechanically while others operate by an electric motor, compressed field gas, or air. The rates at which chemicals can enter vary depending on the volume of chemicals and the type of chemical injection pump. There are advantages of Wingoil chemical injection pumps: Very accurate, Simple in design, and relatively easy to install, adjust or repair, Operate under high pressures, have Long pump life, and Increase work safety.
Conclusion
Chemical injection pumps, also known as chemical metering pumps, provide dependable, repeatable, and calibrated injections for applications that need the administration of one or more chemicals via a pumping system. Chemical injection pumps are appropriate for a variety of applications, including oil and gas, food and beverage, water treatment, cannabis extraction, and more. They are built to work at a varied range of pressure needs.
Related Articles