35Mpa Hydrogen Booster
Model: WY-350H-BJ0
The main function of the hydrogen booster device is to boost low-pressure hydrogen to the required pressure value for the car (or Hydrogenation (hydrogen cylinder), which mainly includes a booster pump, high-pressure filter, pressure regulating valve, high-pressure control (including stop valve and unloading valve), pressure gauge (high and low-pressure gauge), etc.
Share to
Features
The control panel of the booster unit adopts a modular design, and the operation process is clear at a glance.
Equipped with two hydrogenation guns, TK16 and TK25 from WEH Company, one large and one small, which can hydrogenate cars and buses.
It has the function of automatic shutdown after pressurizing to the set pressure.
Take safety measures such as safety valves, emergency stop switches, manual unloading, and safety warnings.
Equipment Schematic Diagram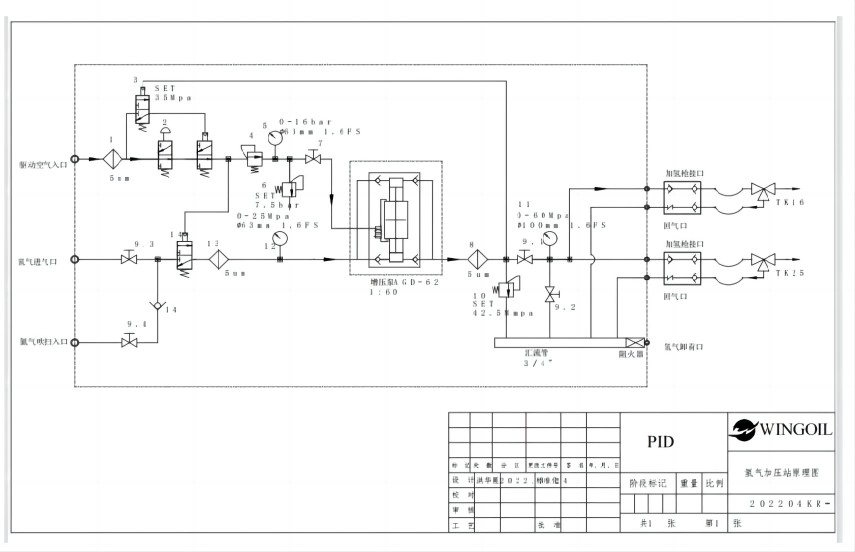 Working Environment
Ambient air temperature: -20-+60℃;
Driving air: 1-8bar
Technical Parameters
Working medium: hydrogen;
Driving mode: pneumatic;
Maximum working pressure of high-pressure pump: 62Mpa;
System set working pressure: 35Mpa;
Maximum operating pressure of driving air: 0.8Mpa;
Device interface:

Compressed air inlet: φ10 quick plug
Hydrogen inlet: W21.8-L
Nitrogen purge inlet: W21.8-L
Unloading port: G 1/2"
Hydrogenation gun 1: TK16
Hydrogenation gun 2: TK25