Gas Booster System
Model: WY-1050N-J0
Gas Booster systems are a series of mechanical components that boost the pressure of natural gases, allowing the gases to be used for an increased number of applications. WINGOIL gas booster systems are capable of compressing most gases including nitrogen, argon, helium, and hydrogen.
Share to
Model: WY-1050N-J0
Nitrogen boost, helium pressurization, carbon dioxide boosting, oxygen booster, gas amplification, mobile pressurization, nitrogen infusion equipment
Wingoil gas boosting system uses driving air as a power to rapidly pressurize inert gases such as nitrogen, helium and carbon dioxide to 1050 bar. The device has a unique structural design that effectively reduces the temperature rise during gas pressurization.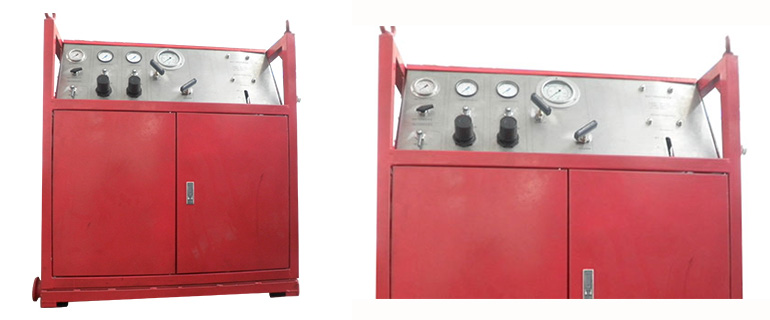 Features
Flow chart of boosting etchedon the control panel surface of the booster unit
Multi-stage boostingto increase efficiency
Adopts air-drivenhydro pump as the boosting unit, which have pressure self-locking function and effectively avoid overpressure;
Stainless steel material withstandingharsh conditions
Technical Parameters
Connections
Construction
| | |
| --- | --- |
| Panel | Stainless steel |
| Pressure gauge | Stainless steel |
| Valve | Stainless steel |
| Tube | Stainless steel |
| Connector | Stainless steel |
| Hydraulic cylinder | Anodized aluminum |
| Piston | Stainless steel |
| Pump head | Stainless steel |
| Frame | Carbon steel |
Pressure and flow
| | | | |
| --- | --- | --- | --- |
| Item | Output pressure | Pressure ratio | Flow(cm3) |
| one-stage | 200bar | 1:30 | 244 |
| two-stage | 500bar | 1:60 | 120 |
| three-stage | 1200bar | 1:150 | 50 |
General layout drawing