Product Overview
Nitrogen Generator Container Unit is a device that integrates an air compressor, a nitrogen generator, and a nitrogen booster into a standard container, and is used to realize the full function from nitrogen generation to nitrogen pressure boosting. Due to its structural superiority, it is especially suitable for field nitrogen production operations that are frequently transported.
Product Features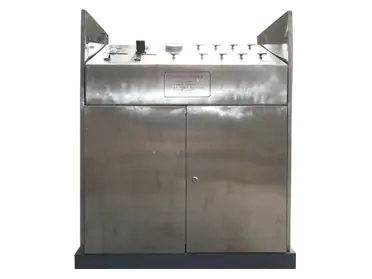 ●  The equipment adopts modular design, compact structure and convenient transportation.
●  All modules are centrally laid out for easy production and safety management.
●  Using a gas-driven pump, it can output a stable pressure without additional energy consumption during the pressure-holding process.
●  Can test multiple instruments at the same time.
Pump Unit Technical Parameters
| | |
| --- | --- |
| Size | 1200L × 750W × 1200L |
| Max flow | 3.2L/min |
| Max output pressure | 8Mpa |
| Safety valve pressure | 10Mpa |
| Needle valve max operating pressure | 20.6Mpa |
| Pressure gauge range | 16Mpa |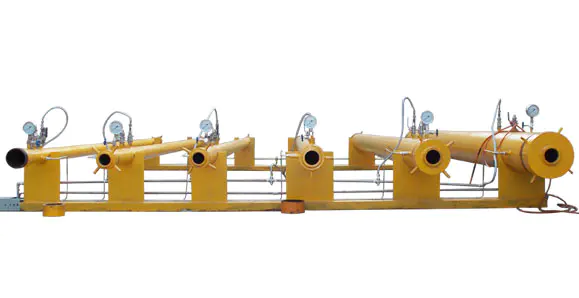 Product Connection
Low pressure water inlet
G3/4F (6-point female thread)
Exhaust outlet
G3/4F (6-point female thread)
Sewage outlet
G3/4F (6-point female the
ead)
Water inlet
G3/4F (6-point female thread)
High pressure outlet
G1/4
Material List
| | |
| --- | --- |
| Frame | Stainless steel |
| Water tank | Stainless steel |
| Pressure gauge | Stainless steel |
| Valve | Stainless steel |
| Tube | Stainless steel |
| Connections | Stainless Steel |
| Hydraulic Cylinder | Anodized aluminum |
| Piston | Stainless steel |
| Booster pump head | Stainless Steel |
| Control cabinet | Stainless Steel |
Hydraulic Pressure Static Conditions (@7bar)
| | | | | | | | | |
| --- | --- | --- | --- | --- | --- | --- | --- | --- |
| Air pressure(bar) | 0 | 1 | 2 | 3 | 4 | 5 | 6 | 7 |
| Hydraulic pressure(bar) | 0 | 10 | 20 | 30 | 40 | 50 | 60 | 70 |
| Output flow (theoretical) | 0 | 3.2 | 3 | 2.7 | 2.4 | 2 | 1.5 | 1 |
General Layout Drawing