Product Overview
WY-50000W-BJ2 Portable hydro test pump is a multi-functional testing equipment using water as a medium, as well as compressed air as driven power; it has the function of real-time record and step-less pressure regulation.
This equipment is available for the hydro static test for pressure vessels, piping, valves, cylinder, hose, etc, as well as used in various fields of chemical, construction, plumbing, petroleum, coal, metallurgy, shipbuilding, etc.
Improper operation on this high-pressure equipment has security risks, so please read this manual carefully before using the equipment.
Product Characteristics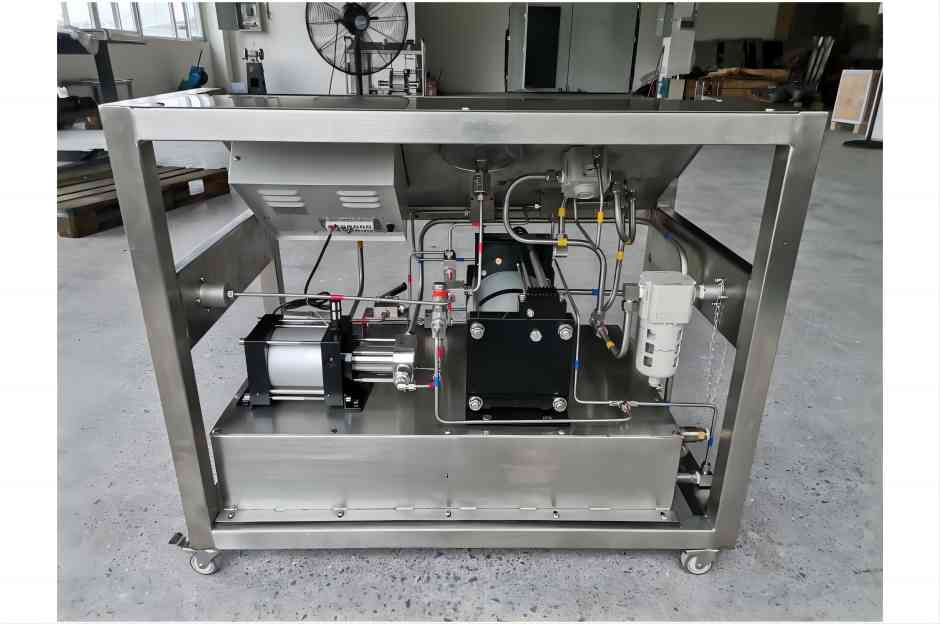 Use low-pressure compressed air as driven power to keep convenience and safe.
Simple operation. Through the control panel, understand the operation method and principle quickly.
Chart recorder has a data recording function.
Double-scale shockproof pressure gauge display.
Schematic diagram
Working Condition
Ambient temperature: 0~ +60℃
Driven Air: 0-100 psi
Power supply: 220VAC 50Hz
Technical Data
Testing medium: Water
Max. Output pressure: 50000 psi
Max. Flow: 19 L/min
Max. Driven-air Operating pressure: 100 psi
Equipment connection:

Compressed air inlet: 1/2 NPT
Water tank outlet: DN15
Drain outlet of water tank: G1/2
High-pressure outlet: 9/16 HP

Charging voltage: 220VAC 50Hz
Power: 15W