Basic Statement of Gas Booster – Working Principle and Applications
As time goes on, the gas booster is used more and more popular. What do you need to know about the gas booster if you want to get gas booster? Today, this article will introduce you to the working principle and applications of gas boosters.
Overview of the Gas Booster
The gas booster is suitable for the compression of gas, air, and industrial gases, such as nitrogen, oxygen, hydrogen, hydrogen sulfide, radon, and sorbet. Some gas boosters can drive the range of air pressure 0-10BAR. The maximum export pressure of the gas booster is 2400BAR, and the gas booster of oxygen can reach 350BAR.
To avoid pollution caused by compressed gas, some gas boosters use dry operation. Moreover, the structure principle of the gas booster guarantees that the driving medium is not mixed with the gas. The air-driven booster is an efficient product for alternative electric products and can be used for workplaces that need to be explosion-proof.
Because some gas boosters have a tight design structure and light quality, they can also be used in some mobile devices.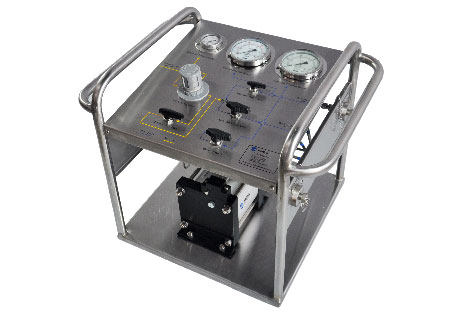 Gas Booster Working Principle
The working principle of the gas booster is similar to the pressure booster. When the low pressure is on a large area of the piston (gas piston (3)), a small area piston will produce high pressure (high-pressure piston (2)). It can achieve continuous operation through a two-level four-pass gas control valve (skate valve (4)). The slide valve enables the driving air alternately to the bottom and the top surface of the gas piston.
The skate valve of some gas boosters is controlled by two binary two-way valves (pilot valve (7)). The pilot valve controls its mechanical movement by the gas piston. The pilot valve is constantly filled or emptied in the slide valve room. Provide traffic from the unidirectional valve (the entrance unidirectional valve and the exporter (1)) to control the high-pressure piston.
You can set the size of the driving air pressure directly determines the size of the export pressure. The final output pressure can be calculated based on the formula in the technical characteristics of the gas booster. When the driver and the high-pressure part reach a balance, that is, the final pressure is reached, and the gas booster will stop running without the consumption of air.
When the pressure part of the high pressure decreases or the driving pressure increases, the gas booster is automatically running, until the pressure balance is reached again. In addition, some gas boosters can realize the automatic switch through a gas control switch, contact type pressure meter, or external control device.
The Main Application of the Gas Booster
Wingoil has a complete model of gas boosters and can meet the needs of various application areas. There are only single-stage, dual effects, and dual-level superchargers, or combined boosters, which can achieve different work pressure and traffic. Gas boosters can be used in various fields, such as:
Gas pressure test
Gas transmission
Gas recycling
Nitrogen cylinder filling
Isolation gas supply system
Gas auxiliary injection molding
CO2 foam
Breathing gas cylinder filling
Leakage test
Related Articles