Portable Hydrostatic Test System
Model: WY-5000W-BJ0
Share to
Product Overview
WY-5000W-BJ0 Portable Hydrostatic Test System is a kind of pressure test equipment developed and produced by Wingoil to meet the injection of different media such as clean water and oil. It has a compact structure, the overall no-load design weight is about 26.5kgs. The equipped pumps, valves, and pipelines are made of stainless steel, which can withstand the harsh working conditions of high temperatures and high pressure. The equipment uses compressed air as the power source, with low energy consumption. This equipment is suitable for water medium and pressure tests of various pressure vessels, pipelines, and valves.
WY-5000W-BJ0 is a customized according to customer requirements, mainly used for pressurization equipment with clear water. The theoretical maximum operating pressure of the equipment is 5000 psi.
This is high-pressure equipment, so there is risky if any wrong operations. Please read this manual carefully before using the equipment.
Product Characteristics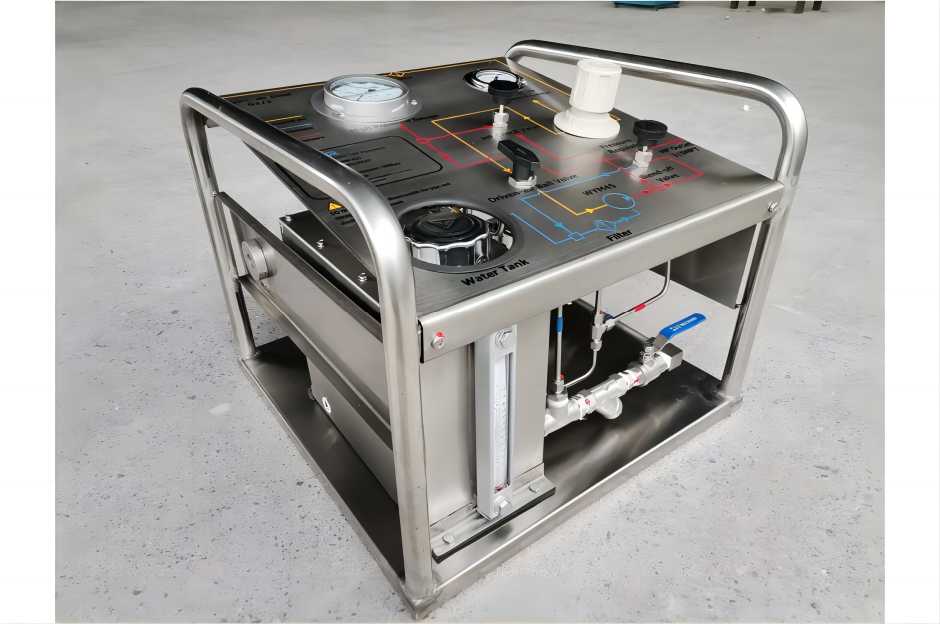 Low-pressure compressed air is used as the booster power source, which is convenient, safe, and environmentally friendly.
The equipment adopts a portable structure, with lightweight and convenient transportation and movement.
Use low-pressure compressed air as driven power to keep convenience and safe.
With the function of pressure self-locked to adjust output pressure keeps constant in case of overshoot under air-driven pressure setting constant.
Pressure is displayed by a double-scale vibration-proof pressure gauge.
Working Condition
Ambient temperature: 0~ +60℃
Power supply: No
Driven Air: 0-120 Psi
Medium: Clean Water
Technical Data
1) Testing Medium: Clean Water
2) Max. Output pressure: 5000 Psi
3) Max. Flow: 1 L/min@100psi inlet pressure
4) Driven-air Max. Operating pressure: 120 Psi
5) Connector:
Compressed air inlet: G1/2
High-pressure outlet: 3/8″NPT
6) Dimension: 500L×500W×390H mm
7) Valve-rated pressure: 6000 Psi